ielab
Meet the company
ielab is a company engaged in the delivery of quality services and products for the application of quality in testing laboratories.
During these last years, having as reference the quality, the independence and provide answers to the technological necessities that have been arising in the exercise of our work, we have been adapting our means and extending our services in a continuous evolution that led us up to a new structure.
BELONGING TO ASSOCIATIONS AND WORKING GROUPS:
Materiales de Referencia del AEN/CTN82 «Metrología y Calibración de AENOR»
Grupo de trabajo EA/Eurolab/Eurachem en Ejercicios de Intercomparación (EEE-PT)
Comité Técnico Asesor de ENAC de Proveedores de Programas de Intercomparación.
R+D+I:
The main objective of the R+D+i Department is to commercialize those developments create within the Agbar Group aiming to increase the competitiveness of the company in the environmental sector, through development, research and technological innovation of strategic nature or non-existent on the market, trying to offer the highest quality service to our clients, through development and innovation of processes that allow to satisfy their demands.
INTERNATIONAL PRESENCE
ielab's services and products are employed by customers from 35 different customeres from 5 continents, which show the global approach to aim to reach.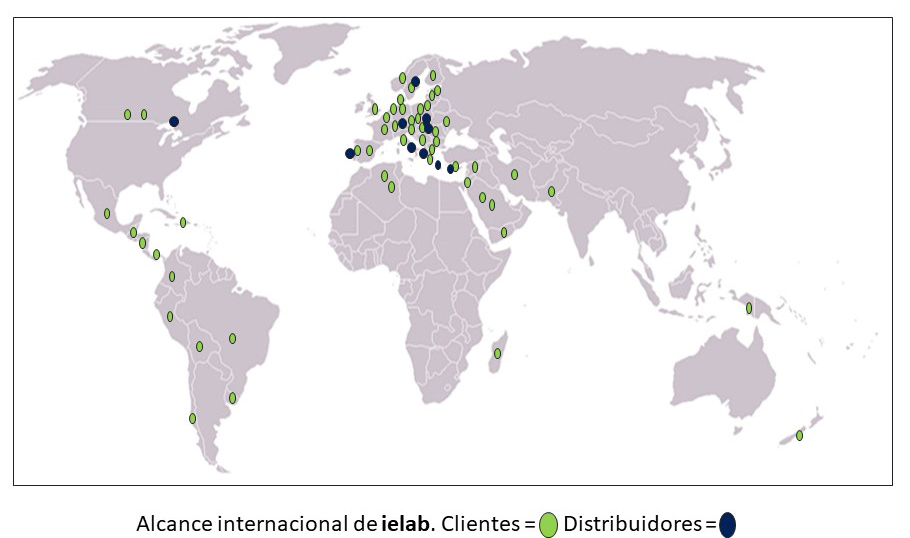 INTERNATIONAL RECOGNITION
ielab has been awarded with the Grand Prize in the Commercial Activity category of the Innovation Trophies Suez Environement 2011, which were handed during the Suez Environnement Technical World Congress in April 2011 in Paris. We would like to share this award with our customers and friends.
Our most recent scientific activities have been:
Corporate Social Responsibility
ielab, as a socially responsible company, follows the following precepts in all its fields of action
RESPECT OF FUNDAMENTAL RIGHTS:
ielab carries out its activities with respect for fundamental rights and human dignity.
Commitment to the environment: ielab and its professionals act as promoters of respect for the environment.
Commitment to training: work at ielab will be a basis for personal and social development.
Safety and health at work: ielab and its professionals have as an objective and constant concern the safety and health at work.
Equal opportunities and non-discrimination: equal opportunities and non-discrimination are guiding principles of the activity in ielab.
Prevention of harassment or intimidation: out of respect for the dignity of every person, ielab and its professionals maintain an attitude of prevention of harassment and intimidation.
ORGANIZATIONAL COMMITMENT
The conduct within ielab is based on good faith.
Confidentiality commitment: the protection of confidential information is a maximum exponent of respect for the organization and its professionals.
Conflict of interests: situations in which personal interests may come into conflict with those of ielab should be avoided.
Non-attendance: as long as the employment relationship persists, no services concurrent with the activity of ielab should be rendered.
Protection of personal data: to be at the forefront of technology requires to be aware of the risks of inappropriate use of instruments of this nature.
RELATIONSHIP OF PROFESSIONALS WITH THE OUTSIDE WORLD
Each professional represents the interests and image of ielab
Commitment to public health and safety: ielab's raison d'être is to provide products and services of the highest quality and safety.
Relationship with clients: excellence in the provision of service, attention and dedication to the client and commitment to quality will govern ielab's relationships with its clients.
Relationship with suppliers: relationships with suppliers are governed by the principles of integrity and honesty.
Relationship with competitors: ielab's relationships with competing companies will strictly observe the rules regulating competition.
Relationship between professionals: relations between the professionals of the ielab companies are based on team spirit and collaboration.